martial arts kids classes ages 7 to 9
core skills program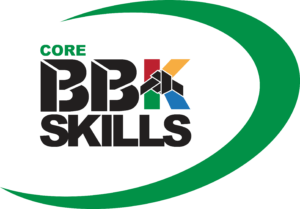 They are proficient in vocabulary and problem-solving skills
Martial arts kids ages 7 to 9 years old are in what most people consider "the golden age." They are proficient in vocabulary and problem-solving skills, yet they do not yet want complete independence from adults. This makes the teacher-student relationship stronger and more important. The quandary we discovered is that although they are highly intelligent, they still lack mastery of core skills and often struggle to keep up with students ages 10 and up. Our solution is to provide them their own program, targeting their adventurous attitude and youthful nature while at the same time building skills that set them up for confidence.
4 important stages of development and our program goals
1. Physically, they may have weak fine motor skills and so proficient technique is not quite there yet. Also, they still tend toward stumbling when their body is in motion so therefore advanced movement is still a little sloppy.
We expect them to initially struggle with perfect technique in their blocks, strikes, kicks, and stances. We also expect them to initially look sloppy when jumping, spinning, switching feet, etc.
The goal for our program is to get oour karate kids to perform technical blocks, strikes, kicks, and stances while applying power. Also, our goal is to get them to apply speed to motion without looking sloppy.
2. Intellectually, they are extremely bright but typically have a hard time concentrating during distractions.
We expect them to initially lose focus if there are other, more "interesting" things going on around them.
The goal for our program is to get them to concentrate on the task at hand despite distractions.
3. Emotionally, they may love a challenge but may shut down if don't initially succeed. They may also avoid challenge for fear of "failure".
We expect them to either be excited or afraid to try something new.
The goal for our program is to help them persevere through challenges, especially if they initially feel like giving up. We will also help them challenge their fears.
4. Socially, they love to interact with others, especially adults. However, they typically don't like when something is unfair and will be determined to point it out and be heard.
We expect them to initially interrupt you when they think something is wrong. We also expect them to show great determination when trying to get their point across.
The goals for our program are to help them learn how to address problems and challenges properly without interfering with the overall flow of the class.
Ready to schedule your trial class?